2019 NASA Honor Awards



The 2019 NASA Honor Awards Ceremony for Ames Research Center was held on Thursday, September 26, 2019. Langley Research Center Director, Clayton Turner, and Ames Research Center Director, Dr. Eugene Tu, presented the 2019 NASA Honor Awards to 61 employees who have been selected for individual awards, and to 20 groups which have been selected for the NASA Group Achievement Award. The names of the honorees in the Aviation Systems Division are listed below.



Lindsay K. Stevens received an Early Career Achievement Medal for significant contributions to ATD-2 technology development and transfer and outstanding leadership of the ATD-2 Human Factors and Experiment team.






Richard A. Capps received an Exceptional Achievement Medal for oustanding technical leadership in developing and demonstrating advanced arrival, departure, and surface management technologies for the U.S. air transportation system.






Ronald J. Reisman received an Exceptional Achievement Medal for vigilance and innovation in safeguarding NASA's sensitive information.






Sandra Lozito received an Exceptional Service Medal for exceptional dedication and contributions to the betterment of the air traffic management technical discipline and teh well-being of Ames employees.






David P. Thipphavong received an Outstanding Leadership Medal for exceptional leadership in early research and development of a generational new air transportation systems for urban metropolitan areas.






The ATD-2 IADS Field Demonstration Team received a Group Achievement Award for the highly successful fielding and testing of the integrated arrival, departure, and surface (IADS) system at the Charlotte Douglas International Airport.

The team included representatives from NASA Ames Research Center (Paul Borchers, Richard Capps, Kevin Carbajal, Richard Coppenbarger, William Coupe, Shawn Engelland, David Foyle, Andrew Ging, Becky Hooey, Ron Johnson, Yoon Jung, Hanbong Lee, Gary Lohr, Lynne Martin, Joey Mercer, Spencer Monheim, Jeffrey Mulligan, Tom Prevot, Leighton Quon, Alex Sadovsky, Jordan Sakakeeny, Shivanjli Sharma, Lindsay Stevens, Jane Thipphavong, Savita Verma, Robert Windhorst, Kevin Witzberger, Shannon Zelinski), American Airlines (Mike Bryant, Kelly Carter, Lorne Cass, Jeff Condo, Bernie Davis, Mike Dunbar, Kerry Facer, Rodney Frascht, Kenya Golden, Craig Goldmintz, Wes Googe, Carol Huegel, Tim Niznik, Suzie Rocha, Mike Smith, Tim Stull), ASRC Research and Technology Solutions (Charles Walter), Booz Allen Hamilton Inc. (Kari Gonter, Matt Gregory, Leikny Johnson), Cavan Solutions (Greg Juro), CLT Airport (Grey Drum, Gail Gilles, Ray Herron, Justin Hobbs, George Lynch), Crown Consulting (Doug Helton), Delta Airlines (Rob Goldman), Engility (Carl Calcasola), FAA (Bill Boggs, Wade Brooks, Sonya Busch, Warren Byrd, Greg Callahan, Eric Cole, Christopher Del Negro, Ben Dengler, Michael Everland, Alex Ewings, Paul Fontaine, Nicole Franc, Brien Gallagher, Todd Hamer, David Holly, Michael Hoprich, Mike Huffman, Andy Isaksen, Aaron Johnson, Joe Klapatch, Andras Kovacs, Tony Kristovich, Ken Leach, Nick Lento, Todd Lewis, Mark Libby, Tony Limon, David Lonkart, Christopher Malitsky, Benjamin Marple, Aaron Maul, Dayal Nagasuru, Phuong Nguyen, Scott O'Halloran, Dennis O'Hara, Oriol Oliva Perez, Susan Passmore, Vern Payne, Denville Pieters, Amnon Pollak, Michael Radford, Bill Rutland, Howard Sapp, Brian Schell, Michelle Sreedharan, Tom Stockham, Rex Thornley, Chris Tracy, Robert Tyo, Brian Ujvary, Ruben Velez, Stephen Veurink, Ross Wagner, Gene Walling, Brandon Wang, Aaron Wilkins, Brandon Yarmark, John Yeo), MATM (Ting Zheng), Millenium Engineering & Integration Co. (Ehsan Talebi), Mosaic Data Science (David Brinton, Michelle Eshow, Patrick Schultz, Nathaniel Rathjen, Dan Wesely, Stuart Wilson, Jeff Zhao), NATCA (Matt Baugh, John Short, Pete Slattery), Optimal Synthesis (Andrew Ong), San Jose State University (Yasmin Arbab, Deborah Bakowski, Nancy Bienert, Todd Callantine, Eric Chevalley, Victoria Dulchinos, Conrad Gabriel, Madison Goodyear, Stacy Granada, Vimmy Gujral, Kimberly Jobe, Josh Kraut, Faisal Omar, Everett Palmer, Bonny Parke), SELF (Mirna Johnson, Waqar Malik, James Park), SGT, Inc. (Vaishali Hosagrahar, Sergei Gridnev, Zhifan, Zhu), Simlabs III Contract Management & Technical Services (John Fergus, Carla Ingram, Melody Lin, Robert Staudenmeier, Danny Vincent, John Walker), Universities Space Research Association (Georg Albrecht, Leonard Bagasol, James Berry, Jason Burke, Steven Chan, Liang Chen, Jinn-Hwei Cheng, Andrew Churchill, Joseph Cisek, Nathan Curry, Thomas Davis, Kevin Day, Amir Farrahi, Cynthia Freedman, Michael Garland, Shawn Gorman, Amanda Gower, Michael Graham, Leland Helmle, David Hicinbothem, Supreet Kaur, Matthew Kistler, Thomas Kozon, Miroslav Lehky, Jaelin Mccreary, Tyler Ngo, Jody Null, Patrick O'Neal, Ian Phelps, Brian Phipps, Daniel Pietrasik, Keenan Roach, Isaac Robeson, John Sanders, Henry Sielski, John Walker, Easter Wang), Volpe National Transportation Systems Center (Sarasina Tuchen), and Wyle Labs (Louise Morgan Ruszkowski).




ATD-2 team members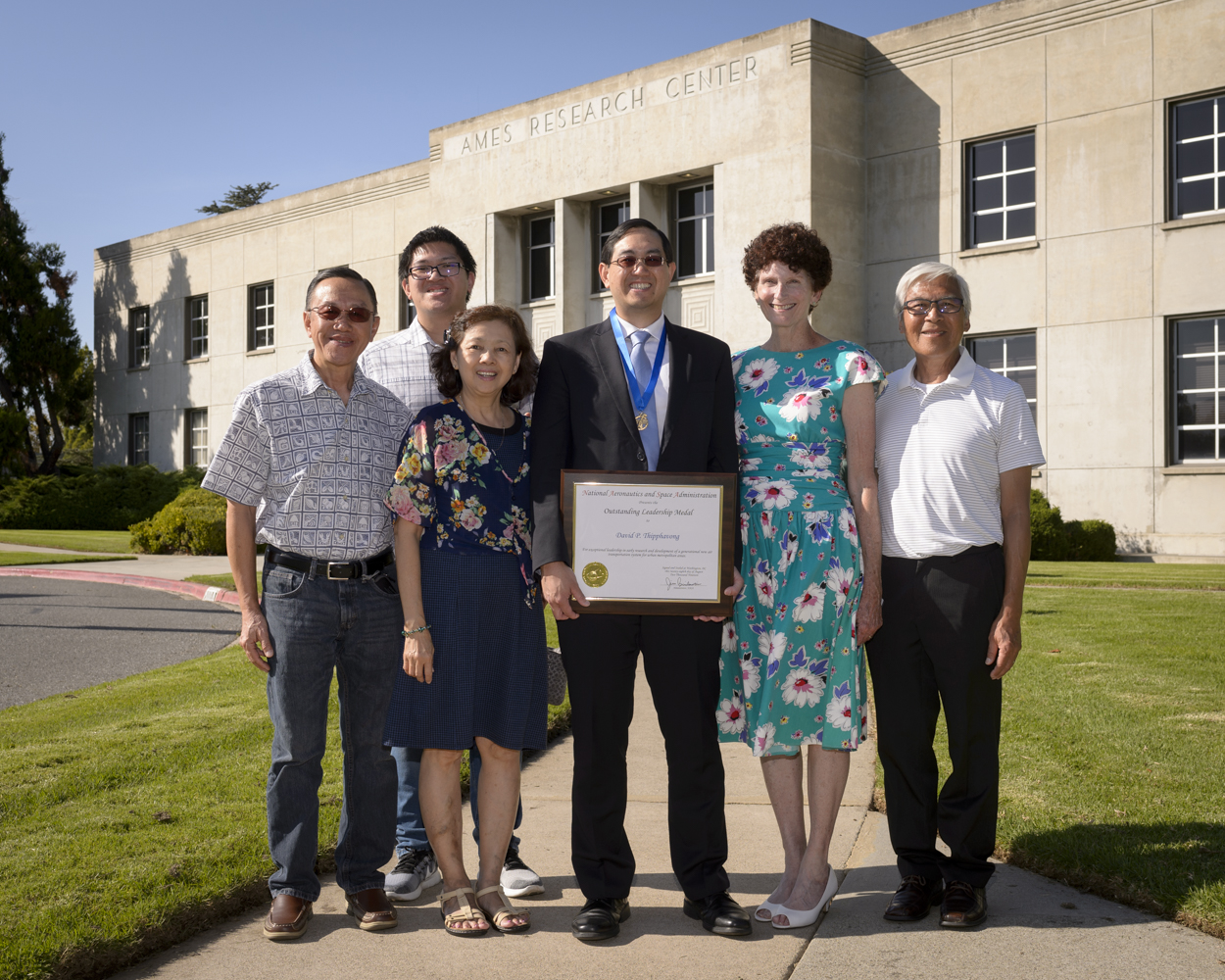 David Thipphavong and family
Ron Reisman and family
Ron Reisman and family
+ Back to Top